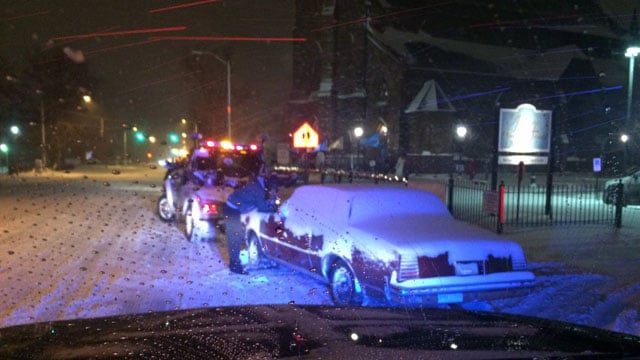 Hartford police advised drivers to adhere to the city's parking ban. (Hartford police)
HARTFORD, CT (WFSB) -
Winter Storm Clare quickly coated the City of Hartford with snow on Wednesday morning.
The parking ban in Hartford went into effect at 8 a.m. on Wednesday and was scheduled to end at 9 p.m. However, the city of Hartford decided to end the ban at noon.
See other bans, along with school closings, here.
The capital city received about 4 inches of snow and no more significant accumulations were expected on Wednesday. However, city officials said "plows will continue to clear snow and slush from the roads" throughout the afternoon hours.
A blue flashing light can be seen at various spots in the city, indicating a parking ban.
Once that happens, drivers have less than two hours to move their vehicles off of city streets and six hours to remove cars from Blue Light Lots. However, on Wednesday, Residents still have until 11 p.m. t to remove cars from Hartford Public Schools lots and until 3 a.m. on Thursday to remove cars from Blue Light Lots.
Drivers can receive tickets or have their vehicles towed if they're caught on a banned street.
People told Channel 3 that while the ban was a minor inconvenience, they admitted that it gives crews the space needed to clear the roads and allow the passage of plows.
Copyright 2018 WFSB (Meredith Corporation). All rights reserved.