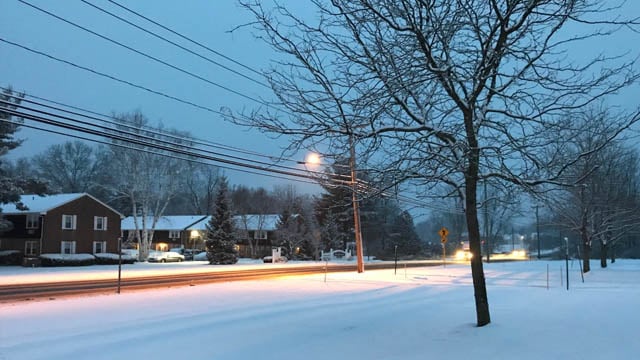 Snowy conditions were reported in Suffield on Wednesday morning. (WFSB)
SUFFIELD, CT (WFSB) -
Winter Storm Clare's snow started to accumulate pretty quickly in Suffield on Wednesday morning.
Capt. Christopher McKee of the Suffield Police Department told Channel 3 that there haven't been any weather-related issues, so far.
Still, he urged people, particularly drivers, to be cautious.
"What we really want people to know is that the roads seem fine, you can still see pavement but that doesn't mean that it's safe," McKee said. "We really encourage drivers to take their time."
McKee said there is no ban in effect, but he urged people to stay home.
"But if you do need to go out, plan for extra time, drive slowly, be careful of the distances of the cars in front of your vehicle," he said. "It's still slick, it's still messy out here."
The Suffield Emergency Management Team is monitoring the situation and will respond to any emergency that arises.
For more on the forecast, check here.
Copyright 2018 WFSB (Meredith Corporation). All rights reserved.