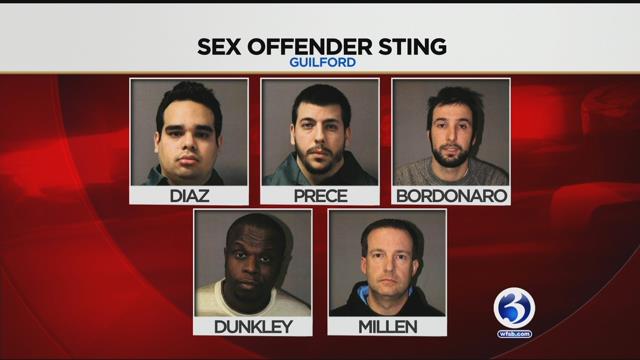 Five men were arrested in a Guilford sex sting (WFSB/ Guilford Police Department)
ELLINGTON, CT (WFSB) -
One of the men arrested in a Guilford sex sting that landed five people behind bars includes a father of two from Ellington.
Kevin Millen, 44, allegedly went to Guilford Sunday evening thinking he was going to have sex with a 12-year-old girl while her stepmother watched.
The arrest warrant contains online conversations between Millen and the person posing as the stepmother, setting up the sexual encounter.
In one message, Millen allegedly wrote "What can you do to reassure me that we're good doing this?"
Millen then wrote that he needed "just some sort of reassurance that this will be safe and [discreet] & not some sort of police sting."
He appeared in court on Tuesday and is out on bond.
He also reportedly works for the Internal Revenue Service.
Copyright 2018 WFSB (Meredith Corporation). All rights reserved.