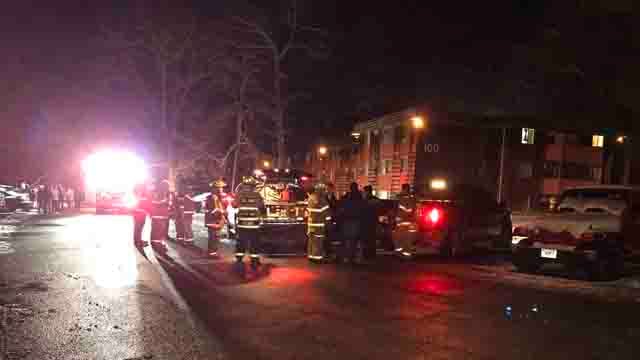 Crews battled a fire at an apartment building in Willington on Wednesday night (WFSB)
WILLINGTON, CT (WFSB) -
Emergency crews were called to a fire at an apartment building in Willington.
The fire broke out at the Woodhaven Apartments on Cisar Road.
Officials said 32 units were evacuated.
"When we got here there was heavy smoke on the second floor the building was evacuated crews were able to find an active fire on one of the apartments on the second floor with heavy fire damage but we were able to confine it to that apartment," said Willington Fire Chief Alex Moore.
Tolland County dispatchers said at least two people were transported to the hospital to be evaluated.
The American Red Cross is assisting fire victims, however it is unclear how many.
Crews from UConn, Mansfield, Tolland, West Stafford, and Coventry all responded.
It is unclear what caused the fire at this time.
Stay updated with Eyewitness News as more information becomes available.
Copyright 2018 WFSB (Meredith Corporation). All rights reserved.