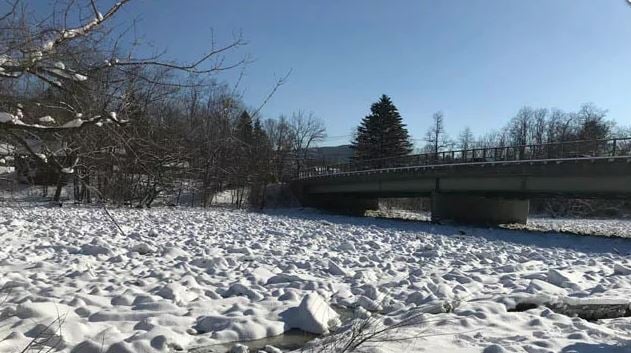 Officials are discouraging drivers from stopping to see the ice jam on the Housatonic River while on Route 7. (WFSB)
KENT, CT (WFSB) -
Officials are discouraging drivers from stopping to see the ice jam on the Housatonic River while on Route 7.
Kent State Representative Brian Ohler said the Connecticut State Police will be ticketing offenders who stop and park along the road to take pictures or observe the ice jam, as it is becoming unstable as it thaws.
Kent officials and emergency management teams conducted a meeting to determine the next steps for residents along the ice jam on Sunday morning following three days of warmth and upcoming rain.
Officials are monitoring the ice jam and the concern for flooding after the town declared a state of emergency.
Several homes along the river flooded causing the residents to evacuate.
Stay with Eyewitness News for updates.
Photos of other ice jams along Connecticut rivers can be seen here.
Copyright 2018 WFSB (Meredith Corporation). All rights reserved.