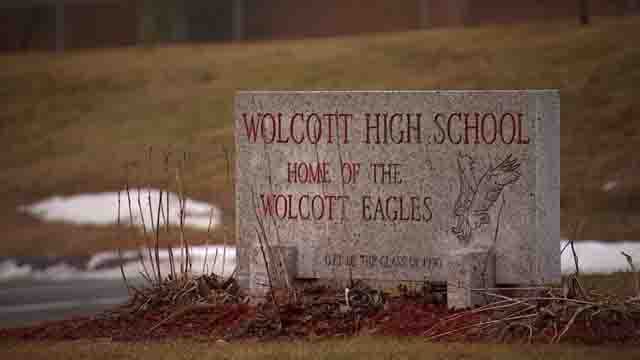 A Wolcott High School student is accused of bringing a gun to school (WFSB)
WOLCOTT, CT (WFSB) -
A high school student is facing charges after police said he allegedly brought a gun to school on Friday.
Police said they were notified when there were posts on social media about a student having a gun on the school bus home.
The 16-year-old student is accused of having a 9mm semi-automatic handgun, which was loaded with one round in the chamber, at school. When officers executed a search warrant on Tuesday, they found the gun under the teen's mattress.
The teen is being charged with illegal possession of a handgun and neglectful storage of a firearm, as he has a younger sister. He is at a juvenile detention center in Bridgeport.
Police said they are also planning on serving him a warrant for carrying a weapon on school grounds and breach of peace.
Superintendent of Schools Tony Gasper sent a letter to parents that said "I'd like to inform you of a serious matter pertaining to our school district. The Wolcott Police Department has been conducting an investigation regarding one of our high school students. Based on their investigation and evidence, they have concluded that a student was in possession of a handgun on school grounds on Friday, January 19th. I would like to stress that, at no time did the student speak about, show, or brandish the weapon to any student or staff member. We treat such matters as the highest priority and have been cooperating fully with Chief Stephens and his department. The student will not be returning to school for the foreseeable future. We believe that was a very isolated event and that there is no further threat to our schools' safety, none the less, you will see an increased presence of the Wolcott Police Department at our schools tomorrow. As this matter involves a juvenile, we will not be releasing any further details."
Stay updated with Eyewitness News as more information becomes available.
Copyright 2018 WFSB (Meredith Corporation). All rights reserved.