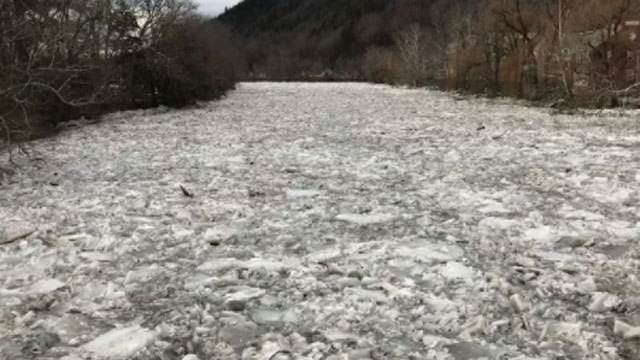 An ice jam blocks the Housatonic river in Kent (WFSB).
KENT, CT (WFSB) -
Students at the Kent School will begin to move back to campus after more than a week away.
The boarding school sent its students home after flooding due to an ice jam on the Housatonic River.
Students are scheduled to move back and begin classes tomorrow.
Flooding has returned to part of Rt. 7 as well. State police were forced to close the road between Bulls Bridge road and Rt. 341. This is the same area that flooded before the ice jam began.
State Rep. Brian Ohler (R-64) said community leaders are urging people to stay away from flood-prone areas and to stay off the ice jam on the river, but did say the town is open for business.
Copyright 2018 WFSB (Meredith Corporation). All rights reserved.