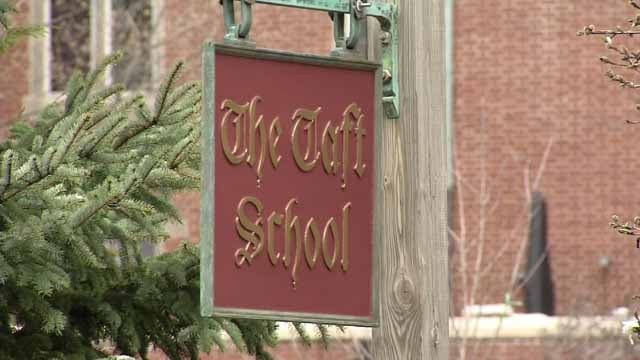 The Taft School (WFSB file photo)
WATERTOWN, CT (WFSB) -
Officials at the Taft School in Watertown were notified about a racial slur written on campus.
It happened after the school's Martin Luther King Jr. Day celebration on Jan. 15.
A Taft student from Ghana found "Go back to Africa" and a racial slur written on a bulletin board on his dorm room door, officials said.
Last Monday, the private school said a piece of art was also defaced.
School leaders met with all students, and classes were canceled last Thursday to allow them to reflect on what happened.
A statement said Taft's headmaster William MacMullen, and other campus leaders, met with students "and forcefully and emphatically told the entire student body that acts like these are wrong and totally at odds with the core values of the school. He noted as well that all students have the right to feel included and welcomed. He forcefully condemned language and actions of this kind. The school is committed to making sure that all students feel supported and safe, and the administration and faculty are working with students to move forward in productive ways."
The statement went on to say "With students from 44 countries and 33 states, Taft is a school that prides itself on diversity and inclusion. Although these incidents are deeply disturbing and at odds with all Taft aspires to be, they offer a teachable moment for our community and have allowed us to continue and deepen discussions on campus about racism, homophobia, and intolerance."
Copyright 2018 WFSB (Meredith Corporation). All rights reserved.