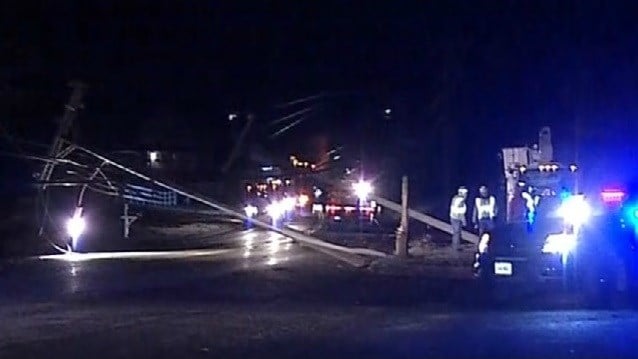 Route 17 is shut down in Portland after a crash on Monday morning (WFSB)
PORTLAND, CT (WFSB) -
Power lines are down and draped across part of a busy road in Portland on Monday morning.
Police said an unidentified driver crashed on Route 17 around 12:30 a.m.
Route 17 is currently shut down between Appletree Lane and Isinglass Hill Road. The crash is expected to impact traffic for the Monday morning rush.
Eversource crews are on the scene to repair the power lines and to get them up and running once again. According to Eversource, there are no power outages in the area.
Investigators said the driver was hurt but they did not reveal the extent of the injuries.
It remains unclear when Route 17 will reopen. To stay ahead of traffic delays, click here.
Copyright 2018 WFSB (Meredith Corporation). All rights reserved.