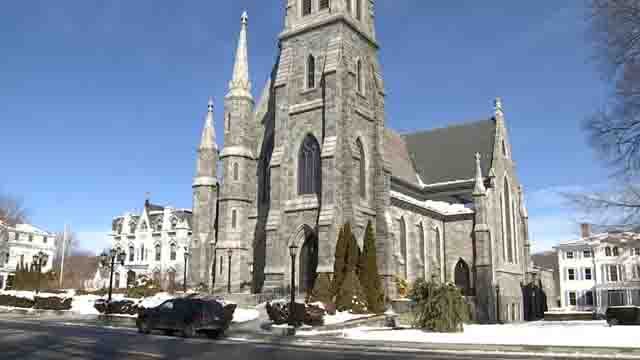 Churches are taking precautions to prevent the flu (WFSB)
NORWICH, CT (WFSB) -
With the flu being widespread across Connecticut, churches are among those taking precautions.
The severity of the flu in the state has had its impact on the practices of the faithful.
"It prevents the spread of the flu, which is an epidemic at this time. They are not shaking hands and they are not drinking from the cup. It's probably a temporary measure but at this time I think it's a great thing to do," said Trisha Spayne, of Norwich.
Bishop Michael Cote sent a letter to pastors of the 72 Norwich dioceses in early January to address influenza and revisit precautions taken for eucharistic liturgies.
"I'm quite pleased that they are doing it and that they are aware of the people," Spayne said.
Temporary safety tips that were issued included:
no handshaking or holding hands
no wine distribution
holy communion in hands not on tongue
hand sanitizer for those distributing holy communion
No handshaking during the sign of peace, or holding hands during the 'Our Father'
no wine distribution
encouraging people to receive communion in their hands rather than on their tongue
making hand sanitizer available to those distributing communion
"I think it's a good idea that they don't shake hands. Because of the flu and the epidemic, it's countrywide," said Roberto Spayne.
The Hartford Archdiocese also issued guidelines to its' 127 parishes. They're leaving it up to individual churches to make changes.
Normal liturgical practices are expected to be restored once the risk of the flu has passed.
Copyright 2018 WFSB (Meredith Corporation). All rights reserved.