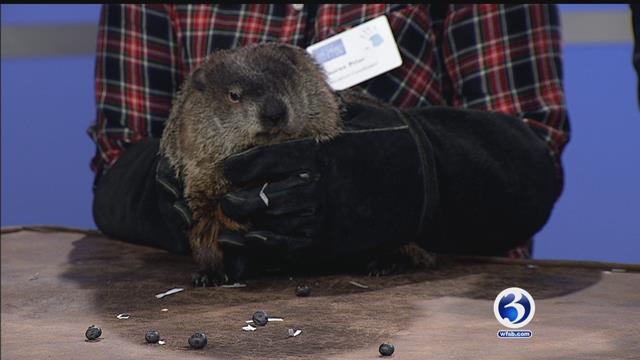 Chuckles the IX. (WFSB)
MANCHESTER, CT (WFSB) -
Chuckles IX boldly predicted an early spring, contradicting the claim from his counterpart, Punxsutawney Phil.
The Lutz Museum in Manchester held its annual Groundhog Day celebration on Friday morning.
Chuckles did not see a shadow, prompting the notions for spring.
This groundhog, the ninth to bear Chuckles' name, was taken in by the museum after it lost an eye in a fight with another animal.
After being rehabbed at Meigs Point Nature Center at Hammonasset State Park in Madison, Chuckles was ready to assume the weather-predicting duties.
Meanwhile down in Punxsutawney, PA, Punxsutawney Phil's handlers announced a prediction of 6 more weeks of winter. The furry rodent indeed spotted his shadow.
Who's right? Vote in Channel 3's poll here.
For more on the Lutz Museum, head to its website here.
Copyright 2018 WFSB (Meredith Corporation). All rights reserved.