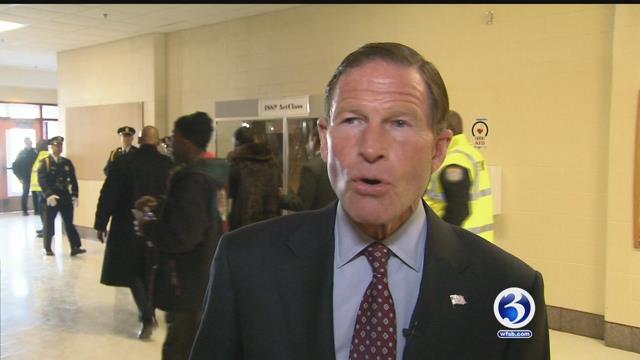 Sen. Richard Blumenthal says the nation's railroads must be made safer, following the latest deadly wreck involving Amtrak. (WFSB file)
HARTFORD, CT (AP) -
U.S. Sen. Richard Blumenthal says the nation's railroads must be made safer, following the latest deadly wreck involving Amtrak.
Authorities say an Amtrak passenger train slammed into a freight train parked on a side track in South Carolina early Sunday, killing two Amtrak employees and injuring more than 110 people.
It was the third deadly wreck involving Amtrak in less than two months.
Blumenthal, a Connecticut Democrat, said Sunday that as incidents repeat, with injuries and deaths, "inaction is inexcusable."
He says proven technology, including positive train control, cannot continue to be delayed.
Positive train control is a computer system that's supposed to help avoid excessive speeds in dangerous situations.
Blumenthal has called for its implementation before. He says "business as usual must end" when it comes to train safety.
Copyright 2018 The Associated Press. All rights reserved. This material may not be published, broadcast, rewritten or redistributed.