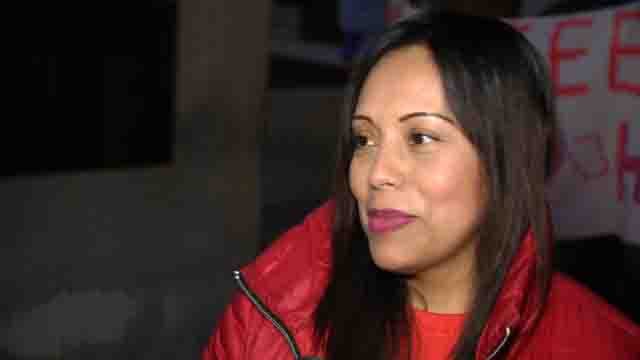 Nelly Cumbicos was granted a reprieve on Monday (WFSB)
MERIDEN, CT (WFSB) -
A Meriden mother facing deportation received a reprieve from federal immigration officials on Monday afternoon.
Congresswoman Elizabeth Esty (CT-05) announced the reprieve was granted for Nelly Cumbicos. Esty said Cumbicos "will be with her family for the foreseeable future."
"Nelly has no criminal record, and she works hard to raise her son, an American citizen who is studying computer science. Her husband is also an American citizen, a taxpayer, and a hardworking, dues-paying union member. Our tax dollars are not infinite: we should be using our resources to target criminals and dangerous individuals, not good people like Nelly," Esty said in a statement on Monday.
Cumbicos' attorney, Erin O'Neill-Baker, filed an appeal with the United States Court of Appeals Second Circuit. The appeal means that ICE will back off for now and allow the case to work its way through the court system.
"It has been very hard living with the uncertainty of our situation, but I am happy that our community came together to support us. I came to this country to escape criminal violence that threatened my family. I only hope that I am able to stay and build a better life," Cumbicos said in a statement on Monday.
More than 13,000 people have signed a petition to halt her deportation.
Copyright 2018 WFSB (Meredith Corporation). All rights reserved.