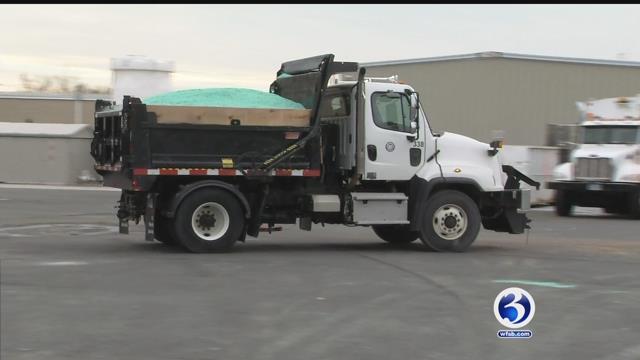 Hartford crews prepared for Wednesday's storm (WFSB)
HARTFORD, CT (WFSB) -
Preparations for the snow have already been taking place in Hartford, where crews were loading up and making sure their trucks were ready.
The city is treating Wednesday's storm as any other snow storm and making sure that they are well prepared.
The main concern is that it starts after the morning commute, so while the drive in may not be a problem, the drive home could be another story.
"We're prepared with prep, we work off of 'SOP,' Standard Operations Procedure. I think we're in the 'Class C' storm event so getting trucks prepared. All our trucks are up and running and we're ready to go," said Robert Swain, of the Hartford Department of Public Works.
The main concern is the timing of the snow, which is supposed to arrive after the morning commute.
"It's the traffic, so we have to be ready to be prepared for the traffic because it's a busy part of the day so normally we'll get out there and treat early then attach our plows after we treat to try to avoid any you know it's always safety first. So, we're ready, we're always ready," said Jason Sutherland, of Hartford Department of Public Works.
The mayor's office said as of yet there is no plan for a parking ban because of the anticipated timing.
Copyright 2018 WFSB (Meredith Corporation). All rights reserved.