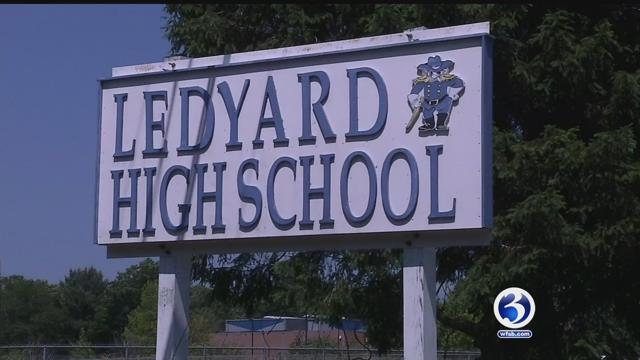 Ledyard High School (WFSB)
LEDYARD, CT (WFSB) -
A 17-year-old Ledyard student was arrested after making a comment on Thursday that caused concern.
In a letter, Ledyard High School Principal Amanda Fagan said a student was heard saying "I could buy an AR-15" during class on Thursday morning.
"In an abundance of caution, despite the fact that this student is a minor who cannot, in fact, legally purchase such a weapon, we made the decision to consult with the Ledyard Police, who made the decision to take the student into custody. The offense is akin to joking about a bomb in the airport. One simply doesn't do it," Fagan wrote.
The teen was arrested and charged with second-degree threatening and second-degree breach of peace.
Fagan said the student in question does not have access to firearms at home, and there was never any threat to the safety of students and staff.
"As always, the Ledyard Police Department worked closely with Principal Amanda Fagan and her staff, ensuring that there was never a credible threat to students or staff at the Ledyard High School," Ledyard Police Lt. Ken Creutz said.
Copyright 2018 WFSB (Meredith Corporation). All rights reserved.