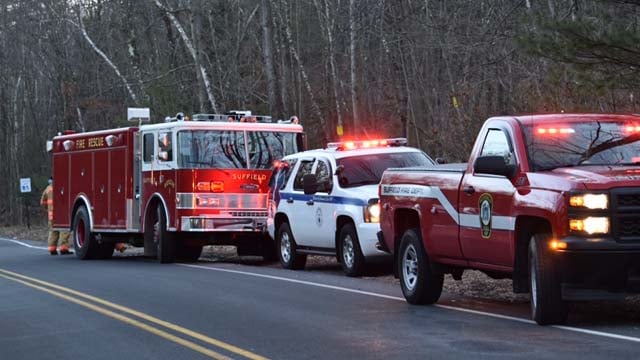 Crews rescued a man who fell at the Suffield Quarry on Tuesday (Jennifer Tilsch Nardi Golden, Suffield Fire Dept Photographer)
SUFFIELD, CT (WFSB) -
Emergency crews rescued a 27-year-old man in the Suffield Quarry on Tuesday afternoon.
A little before 5 p.m., police received a 911 call about a man who had fallen off a rock formation in the quarry on Quarry Road at Phelps Road.
The man was treated and stabilized, and was taken to the hospital with non-life threatening injuries.
Police said the property is privately owned but is known to emergency officials as a site where numerous similar emergency rescues have happened before.
Several emergency crews responded to the rescue, which lasted for about 45 minutes, police said.
Police said this serves as a reminder to stay off the Suffield Quarry property.
"The owners of this privately owned area, have authorized Suffield Police to make arrests of those found trespassing in this area. 'No Trespassing' signs are highly visible throughout the area," police said.
The last fatality at the location happened in 2001, when an 18-year-old from Massachusetts died after falling from a 200-foot high cliff.
Copyright 2018 WFSB (Meredith Corporation). All rights reserved.