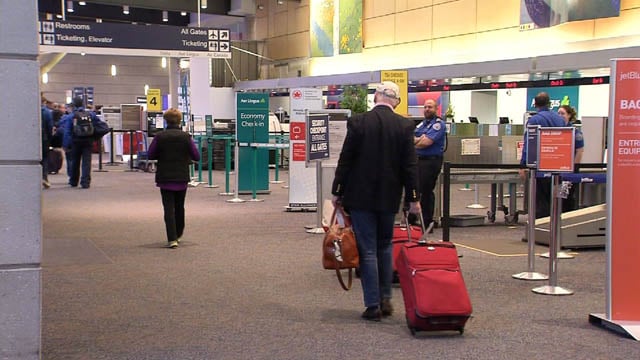 Winter Storm Ferris is expected to impact travel across the state (WFSB file photo)
HARTFORD, CT (WFSB) -
Winter Storm Ferris is on the way, and its timing couldn't be worse.
The Tuesday morning commute will be heavily impacted by heavy snow across most of the state.
Chief Meteorologist Bruce DePrest said there could be times where 1 to 3 inches of snow is falling per hour on Tuesday morning.
The best advice is to stay off the roads on Tuesday, but if you have to, AAA offered some tips for drivers who might have to go out on the roads on Tuesday:
Slow down: accelerate, turn and brake gradually. Adjust your speed to the road conditions and leave yourself ample room to stop. Allow at least three times more space than usual between you and the car in front of you.
Increase following distance: normal following distances of three to four seconds on dry pavement should be extended to a minimum of eight to ten seconds when driving on slippery surfaces. The extra time will provide additional braking room should a sudden stop become necessary.
Watch the traffic ahead: slow down immediately at the sight of brake lights, fishtailing cars, sideways skids or emergency flashers ahead.
Never use cruise control on slippery roads: patches of ice can cause unexpected wheel spin and use of cruise control can slow driver response.
Move Over: move over one lane for law enforcement and emergency roadside personnel assisting motorists. It is the law. If you are unable to move over, slow down.
Carry a winter weather kit in your car: contents should include a fully charged cell phone (and car charger), ice scraper, blanket, warm winter clothing, flashlight with extra batteries, jumper cables, a bag of kitty litter, reflective triangles/flares, shovel and cloth/paper towels.
For those traveling in the air on Tuesday, Bradley International Airport said some airlines have started adjusting their schedules and a large number of flights have already been canceled.
The airport is open, but travelers should contact their airline directly before heading to the airport.
Officials at Amtrak Northeast said service is suspended between Boston and New York City until at least 11 a.m. on Tuesday.
Check the latest here.
Metro-North officials have told travelers to allow for extra travel time because of the inclement weather.
Stay with Channel 3 on air and on the app for the latest on Winter Storm Ferris.
Copyright 2018 WFSB (Meredith Corporation). All rights reserved.