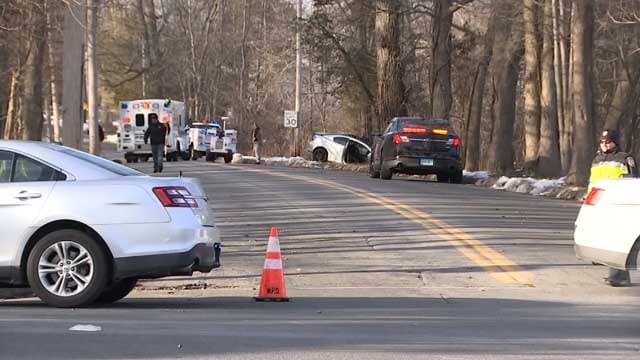 Two teenagers were seriously injured in a crash in Wallingford on Friday afternoon (WFSB)
WALLINGFORD, CT (WFSB) -
Two Wallingford students were rushed to the hospital with serious injuries after the car they were in crashed into a tree.
The crash happened on Highland Avenue, just north of Route 68, around 3 p.m.
Police said the two male teens, ages 16 and 15, both students at Sheehan High School were leaving a football meeting when the 16-year-old driver lost control of the car and crashed into a tree.
Police said the majority of the damage was on the driver's side of the car.
Police said both teens were safely removed from the car by the Wallingford Fire Department and taken to Yale-New Haven Hospital with serious injuries.
Police said the 16-year-old driver suffered numerous fractures, but is conscious and in stable condition. Police said the 15-year-old passenger is unconscious with a head injury, but is stabilized in the Pediatric ICU at Yale New Haven Hospital.
Highland Avenue between Route 68 and Buttonwood Circle remained closed for 4 hours while police and crews reconstructed the crash and investigate.
Stay updated with Eyewitness News as more information becomes available.
Copyright 2018 WFSB (Meredith Corporation). All rights reserved.