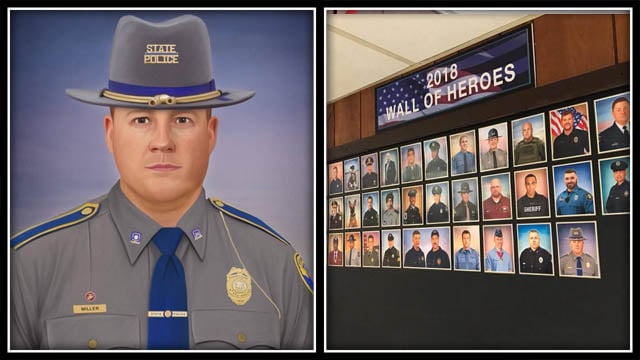 A Pennsylvania officer constructed a photo of Trooper Kevin Miller (CT State Police)
HARTFORD, CT (WFSB) -
There's a poignant new picture of the Connecticut state trooper who died in the line of duty last week.
A painting of Trooper First Class Kevin Miller was painted by Pennsylvania State Trooper and forensic artist Jonny Castro.
Connecticut State Police tweeted out the image on Wednesday morning.
Trooper Miller died last week after his cruiser rear-ended a tractor-trailer on I-84 in Tolland.
The cause of the crash remains under investigation.
State police set up a memorial fund to help Trooper Miller's family.
Donations can be made through a GoFundMe page here.
Calling hours for Trooper Miller are Thursday at Rentschler Field in East Hartford from 2 to 4 p.m., and 5 to 8 p.m.
A funeral service is being held on Friday at Rentschler Field at 11 a.m.
Copyright 2018 WFSB (Meredith Corporation). All rights reserved.