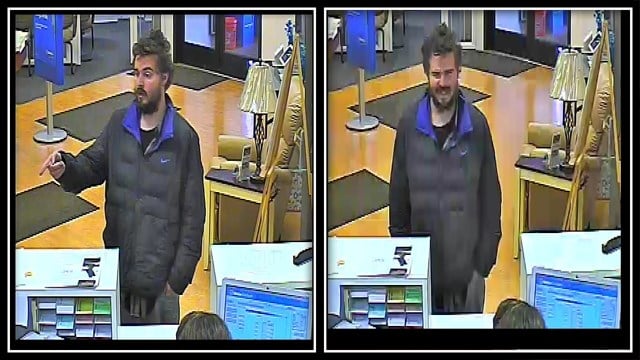 Ansonia police are searching for a man who robbed a Webster Bank (Ansonia PD)
ANSONIA, CT (WFSB) -
Ansonia Police are searching for a man who robbed a bank on Wednesday.
Police said they responded to Webster Bank at 200 Division St. around 3:40 p.m.
The suspect is described as a white man, approximately 5'8" to 5'10" tall, a medium build with black hair and a beard.
He was wearing a dark-colored Nike jacket with blue lining, blue jeans, and dark shoes.
Police said he did not show a weapon or make any threats.
The suspect got away with an undetermined amount of money.
Ansonia police said the teller gave the suspect money with a dye pack, which exploded in the parking lot, leaving red dye on some of the money and suspect.
The suspect left the scene in a tan or light-colored SUV, possibly a Jeep Cherokee.
Anyone with information about this suspect is asked to call Ansonia Police.
Copyright 2018 WFSB (Meredith Corporation). All rights reserved