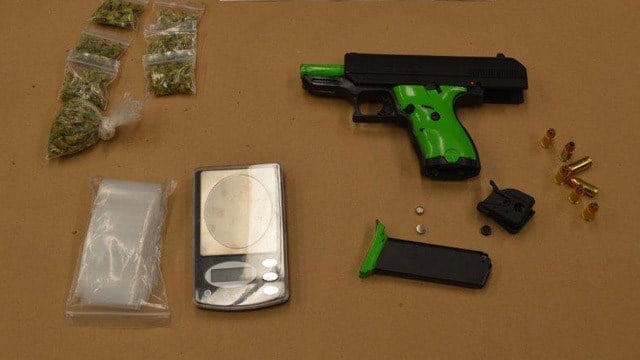 Martin Akem Calerdon was arrested for having a loaded gun that was painted to look like a toy and an ounce of marijuana, according to police. (Cromwell police)
CROMWELL, CT (WFSB) -
A man pulled over for speeding and reckless driving was found to be in possession of a painted gun and drugs.
Martin Akem Calerdon, 27, was seen driving 85 mph on New Lane in Cromwell just before 6 a.m. on Thursday.
Calerdon was stopped in a driveway on Main Street.
In the vehicle, police said they found a loaded Luger 9mm handgun that was painted fluorescent green to give the appearance of a toy gun.
Calerdon was also found to be in possession of an ounce of marijuana, police said.
He was charged with possession of marijuana, possession with intent to sell, possession of drug paraphernalia, carrying a firearm without a permit, criminal possession of a firearm, weapons in a vehicle, carrying a firearm while under the influence, failure to obey a stop sign and reckless driving.
He was released on a $25,000 surety bond and scheduled to face a judge on April 17.
Copyright 2018 WFSB (Meredith Corporation). All rights reserved.