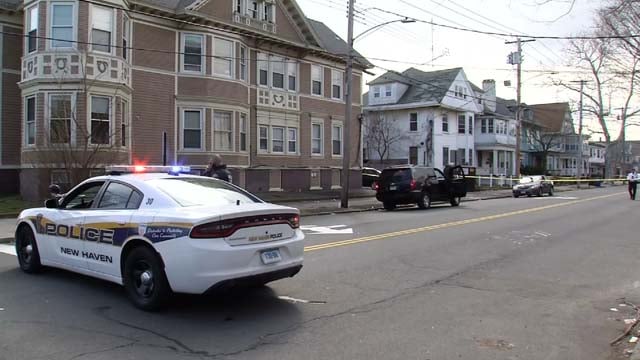 New Haven police are investigating a homicide that happened on Wednesday (WFSB)
NEW HAVEN, CT (WFSB) -
A man has died after being shot in the chest in New Haven.
Police identified the victim as 35-year-old Eric Lewis.
He was initially listed as being in critical condition, but police said he was pronounced dead at the hospital.
Police were called to Chapel Street between Winthrop Avenue and Norton Street just before 12:30 p.m. on Wednesday.
Lewis was found and rushed to Yale-New Haven Hospital.
Detectives from the department's major crimes division remained on the scene hours after the shooting to investigate.
"Board daylight, very scary. Look, it's a busy road. They fear no one and it's very sad," said Novyn Peters, a neighbor.
There's no word on a suspect.
Anyone with information that may be valuable to investigators is asked to contact New Haven police at 203-946-6304, through the department's anonymous tip-line at 866-888-TIPS (8477) or 203-946-6296.
Copyright 2018 WFSB (Meredith Corporation). All rights reserved.