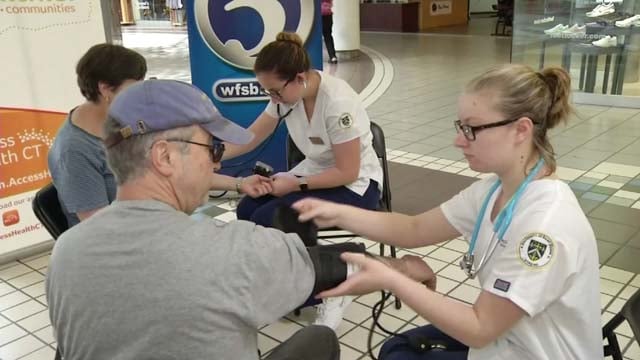 Free health screenings were held at Meriden's Westfield Mall on Thursday (WFSB)
MERIDEN, CT (WFSB) -
Channel 3 teamed up with Access Health CT and the University of Saint Joseph Thursday for free health screenings.
They set up at the Meriden Westfield Mall to give blood pressure screenings, where several dozen people stopped by.
Health officials say healthy adults should get theirs checked at least once a year.
"You don't know if your blood pressure is high, it's called the silent killer for a reason. So having your blood pressure taken on a regular basis you can see the pattern," said Kathleen Conway, undergraduate clinical coordinator at the University of Saint Joseph.
Nurses were also giving advice on how to create and maintain a healthy lifestyle.
Copyright 2018 WFSB (Meredith Corporation). All rights reserved.