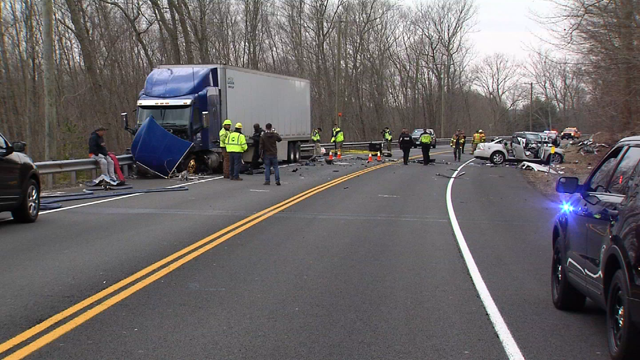 A child was injured after a serious head-on crash in Coventry (WFSB photo)
COVENTRY, CT (WFSB) -
A child was injured in a serious crash on Route 6 in Coventry on Thursday.
According to Coventry Police, a tractor-trailer and a Ford collided head-on, on Route 6.
The driver of the Ford was taken by Lifestar helicopter to Hartford Hospital and is in critical condition.
A child was in the car at the time of the crash. The child was taken to Connecticut Children's Medical Center and is in stable condition.
The driver of the tractor-trailer was not injured.
Route 6 is closed at South Street and will reopen around 11 p.m.
Coventry Police are investigating how the crash happened.
They have not released any names of the people involved in this crash.
Anyone with information is asked to call Coventry Police.
For real-time traffic updates, check the Channel 3 traffic map here.
Copyright 2018 WFSB (Meredith Corporation). All rights reserved.