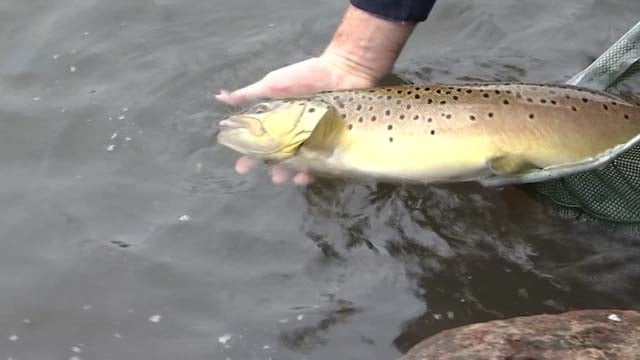 Fishing season begins April 14 (WFSB)
HARTFORD, CT (WFSB) -
It's definitely spring, and fishing season is here.
The fishing season in CT starts Saturday, April 14, and officials from the Dept. of Energy and Environmental Protection are reminding residents about new regulations.
The new regulations went into effect in March of this year.
The following are some new regulations that will be of interest to anglers:
Trout & Salmon Stamp. A trout & salmon stamp is now required for any angler 16 years of age and older fishing in a Trout Management Area (TMA), Wild Trout Management Area (WTMA), Trout Park, or Atlantic Salmon Broodstock Area; or keeping trout, Kokanee Salmon or broodstock Atlantic Salmon anywhere throughout the state. Note that in all other types of specially designated areas including Trout Management Lakes, Trophy Trout Streams and Sea-run Trout Streams a stamp is only required if trout or salmon are being kept, and is not required just to fish these areas. There are several exemptions to the stamp requirements. Anglers keeping trout from waters that have been stocked by another entity but are not stocked by the state; and holders of lifetime fishing licenses issued to persons that are blind, have an intellectual disability, or have certain physical disabilities are exempt from the stamp requirement. The fees for the Trout & Salmon Stamp are $5.00 for resident anglers who are 18 and older, $3.00 for CT residents ages 16 or 17 and $5.00 for non-resident anglers age 16 and older.
Farmington River TMA. A small portion of the West Branch Farmington River in the Riverton area from the intersection of Hogback Road and Route 20 in Hartland downstream to the gas pipeline crossing approximately four-tenths miles downstream of the confluence with the Still River in Barkhamsted will now be closed to all fishing from April First to 6:00 am on the second Saturday in April.
Mill River WTMA & Mill River TMA (Easton-Fairfield). The Mill River WTMA is extended downstream to the Merritt Parkway and the Mill River TMA is now catch-and release year round.
Fishing seasons. Alexander Lake is open to fishing year round. Baldwins Pond and Green Falls Reservoir are open to fishing from 6:00 am Opening Day through the last day of February.
Catfish. There is now a creel limit of 6 Channel Catfish and White Catfish in aggregate per day, except in Beaver Park Lagoon, Birge Pond, Bunnells Pond, Center Springs Park Pond, Freshwater Pond, Keeney Park Pond, Lake Wintergreen, Lakewood Lake, Mirror Lake, Picketts Pond, Rowans Pond, Mohegan Park Pond and Stanley Quarter Pond where the creel limit is 3 catfish per day.
Common Carp. There is now a creel limit of 5 Common Carp per day, with no more than 1 fish greater than 30 inches in length, except in Trophy Carp Waters (see below).
Trophy Carp Waters. Batterson Park Pond, Connecticut River (including the portions of tributaries open year-round), Squantz Pond and West Thompson Reservoir are designated as Trophy Carp Waters with a one carp per day creel limit and a 26 inch maximum length for Common Carp.
Methods. Tenkara fishing (a traditional Japanese method of fly-fishing without a reel) is now allowed in fly fishing areas.
Atlantic Salmon Broodstock Areas. The period when broodstock salmon gear restriction applies to all species in broodstock areas is now from September 1 to March 31 (inclusive).
Trout Parks. Pasture Pond at the Quinebaug Valley State Trout Hatchery, Plainfield, is now a designated Trout Park with a 2 trout per day creel limit.
The new marine regulations include:
Black Sea Bass. Minimum length: 15 inches (minimum length excludes the dorsal tail filament or tendril).
Open season from May 19 to July 17, inclusive, with a daily creel limit of 3 fish.
Open season from August 7 to December 31, inclusive, with a daily creel limit of 5 fish. There is no longer a "bonus" creel limit for paying passengers on party or charter fishing vessels.
Scup. Open season from May 1 to December 31, Minimum length is 9 inches*, Daily creel limit is 30 fish. Note that the party or charter fishing vessel "bonus" season of 45 fish from September 1 through October 31 for paying passengers remains in place.
Summer Flounder. Open season: May 4 to September 30, inclusive, minimum length is 19 inches*, daily creel limit is 4 fish.
Tautog. Minimum length is 16 inches at all times.
Open season from April 1 to April 30, inclusive, with a daily creel limit of 2 fish;
Open season from July 1 to August 31, inclusive, with a daily creel limit of 2 fish;
Open season: October 10 to November 28, inclusive, with a daily creel limit of 3 fish.
For more information, click here.
Copyright 2018 WFSB (Meredith Corporation). All rights reserved.