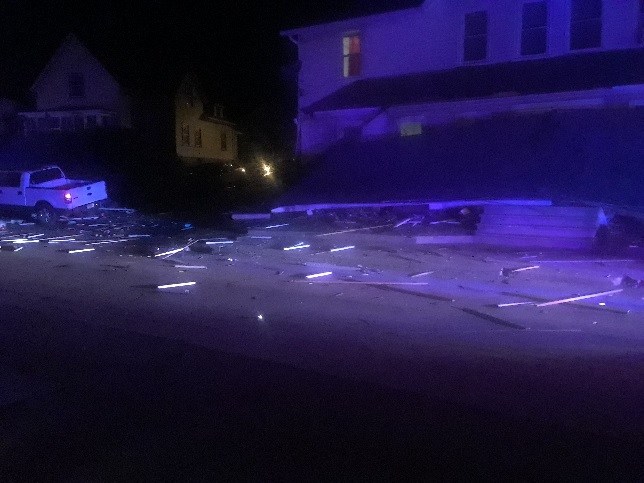 Damage left behind after a truck hit a home in Putnam (Putnam Police Dept.)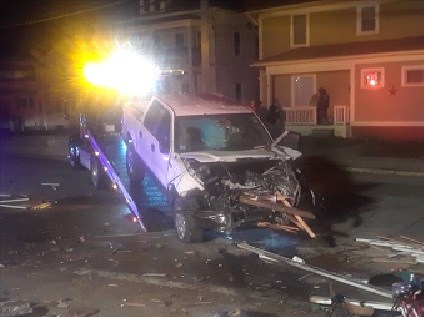 Police said no one was injured but the front porch collapsed. (Putnam Police Department)
PUTNAM, CT (WFSB) -
Putnam police said no one was injured after a truck crashed into the front of a home on Woodstock Avenue early Saturday.
Officers were called on reports that a single vehicle crash had occurred. When police arrived they found a pickup truck had smashed through the front porch of a residence.
The truck came to a final rest a short distance away when it struck a stone wall at the corner of Maynard Street and Woodstock Avenue.
Police said witnesses reported the driver of the truck had fled the scene, he was located a short time later thought on the side of the road uninjured.
The driver has been identified by police as 22 year old Ryan Davis of Putnam. Police said Davis was driving his truck west on Woodstock Road when he went off the right shoulder, through a picket fence and then traveled nearly 150 feet into the porch of 107 Woodstock Ave. The impact of the crash caused the roof of the porch to collapse.
Police said two families lived in the home, both were there at the time of the crash, but thankfully no one was injured.
Davis was arrested to police after they found several indications he was under the influence of alcohol or drugs. He was charged with operating under the influence and failure to maintain lane and was released on a $1,500 bond. He is due in court later this month.
Copyright 2018 WFSB (Meredith Corporation). All rights reserved.