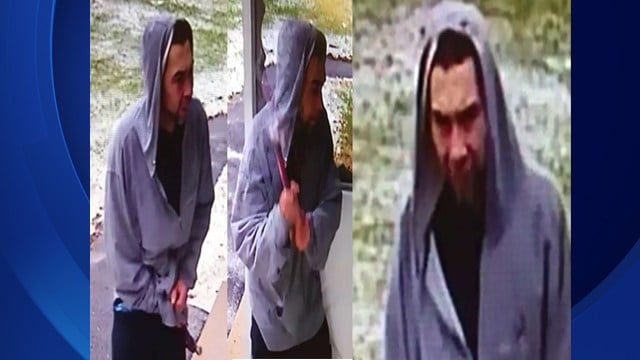 Watertown Police are attempting to identify a man that broke into a home (Watertown PD)
WATERTOWN, CT (WFSB) -
The Watertown Police Department is attempting to identify a suspect in a home burglary.
The burglary happened on Monday around 8:27 a.m. on Dinuzio Road in Oakville.
Surveillance video from the home shows a man using a hammer to smash the glass of a door in the back of the home.
The suspect reached into the door and unlocked it. In the video, the suspect leaves the home with a large flat screen TV.
According to police, the suspect is described as a Hispanic male in his late 20s to early 30s. He is approximately 5'10" tall, 165 pounds, with dark hair and has a chin-strap style beard.
The suspect was wearing a gray hoodie sweatshirt with the words "fish tale" on the back. He had a dark t-shirt and black sweatpants with black sneakers.
Police did not know what vehicle the suspect was driving.
Anyone with information on this person is asked to call Watertown Police.
Copyright 2018 WFSB (Meredith Corporation). All rights reserved.