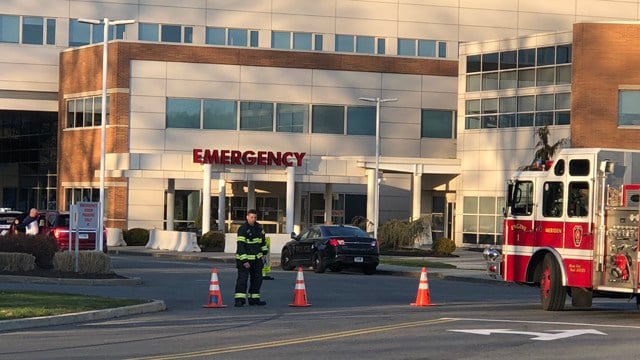 White substance was brought into Midstate Medical Hospital (WFSB Photo)
MERIDEN, CT (WFSB) -
The Midstate Medical Center emergency room entrance in Meriden has reopened following an incident in which a man brought a white powdery substance in to the facility.
Shortly after, 5:30 p.m. on Friday evening, Meriden Police, Fire, and Department of Energy and Environmental Protection crews locked the facility down after staff reported a man covered in a white powder entered the building.
A lockdown was initiated and the man, as well as a few nurses were quarantined after they reported they were not feeling well.
Officials said patients were being diverted to Hartford Hospital of Central Connecticut in New Britain, or other medical centers based on their location.
Police determined that the substance was 'inert' and of no harm to staff or patients. Officials later confirmed the substance was baking soda.
Doctors are working with those in quarantine and expect those individuals to be released on Friday evening.
WATCH LIVE, below. Officials provided an update on the hazmat situation that took place in Meriden:
Stay tuned to Eyewitness News for updates on this developing story.
Copyright 2018 WFSB (Meredith Corporation). All rights reserved.