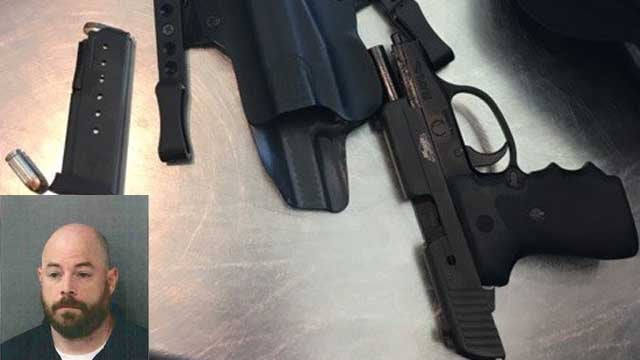 The .40 caliber Sig Sauer firearm was loaded, TSA officials said (TSA image)
WINDSOR LOCKS, CT (WFSB) -
A 39-year-old man was arrested at Bradley International Airport Monday morning after trying to board a flight with a loaded gun.
Airport officials said TSA officers discovered a loaded .40 caliber Sig Sauer firearm in the man's carry-on luggage. The gun had a bullet in the chamber.
Local law enforcement responded to the checkpoint to interview the man, who was set to board a flight to Atlanta.
He was identified as Matthew English, of Torrington.
Police took the firearm and arrested English.
He was released on a $5,000 bond and is scheduled to appear in court next month.
This was the first firearm detected in carry-on luggage at BDL this year.
Airport officials said TSA discovered 3,957 firearms at checkpoints across the nation last year and nearly 3,400 firearms in 2016.
Copyright 2018 WFSB (Meredith Corporation). All rights reserved.