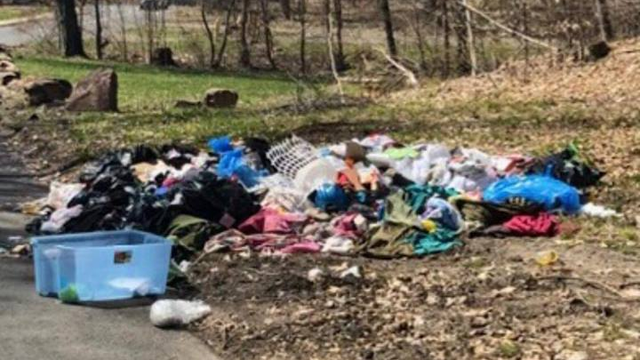 Hartford's DPW said police arrested a suspect for dumping dozens of bags of household trash on Love Lane. (Hartford DPW)
HARTFORD, CT (WFSB) -
Hartford officials don't fool around when it comes to illegal dumping in the city.
They made that point clear enough when they tracked down and arrested an unidentified man for dumping dozens of bags of household items on Love Lane.
According to the Department of Public Works, a property owner was identified who revealed that a person was hired to "properly" dispose of the 20 to 25 bags.
DPW said the suspect is also a resident who lives in the area.
He was charged with a misdemeanor summons, illegal dumping on city property.
DPW issued a warning to anyone looking to illegally dump trash in the city.
"The City of Hartford will use every resource available to hold people accountable who dump in our city illegally," it said. "We will find you and you will be arrested. Your vehicle will also be confiscated by the Hartford Police along with a four-figure fine."
Copyright 2018 WFSB (Meredith Corporation). All rights reserved.