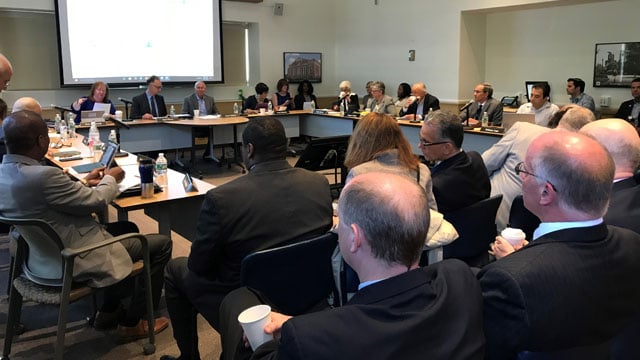 The Board of Regents met on Thursday. (WFSB)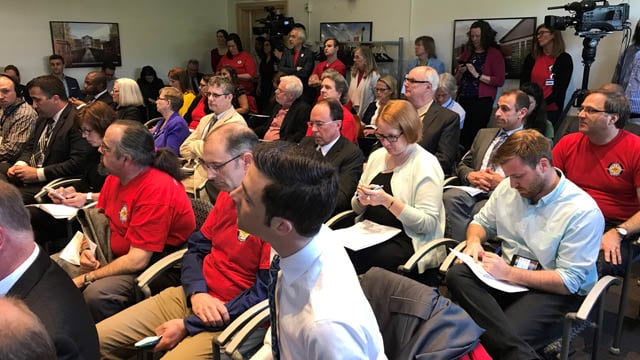 The Connecticut State Faculty Leadership Group attended Thursday's Board of Regents meeting. (WFSB)
HARTFORD, CT (WFSB) -
A group is calling for change after what it calls "a series of bad ideas" from the Connecticut State Colleges and Universities System's Board of Regents.
The Connecticut State Faculty Leadership Group issued a statement on Thursday taking aim at policies like the board's "Students First" initiative.
The group called the plan "massively disruptive for more than 50,000 students and thousands of faculty and staff."
Students First involves consolidating the community colleges in the CSCU system to save money. CSCU president Mark Ojakian said it's a preferred alternative to closing locations or dramatically raising tuition.
The group, however, said there's no guarantee that the quality of education would remain in tact or that enough money would be saved for it to be worth it.
The group also said that the CSCU system office costs an average of $35 million per year to operate.
"We recommend following higher education systems in states like Oregon and Virginia that, in the face of reduced state funding, have moved in the direction of a reduction in outside financial and administrative controls," the group said. "We can do this by returning to a coordinating model of governance as existed before 2011."
The Board of Regents was created in 2011.
Channel 3 will have more on this story starting at 5 p.m.
Copyright 2018 WFSB (Meredith Corporation). All rights reserved.