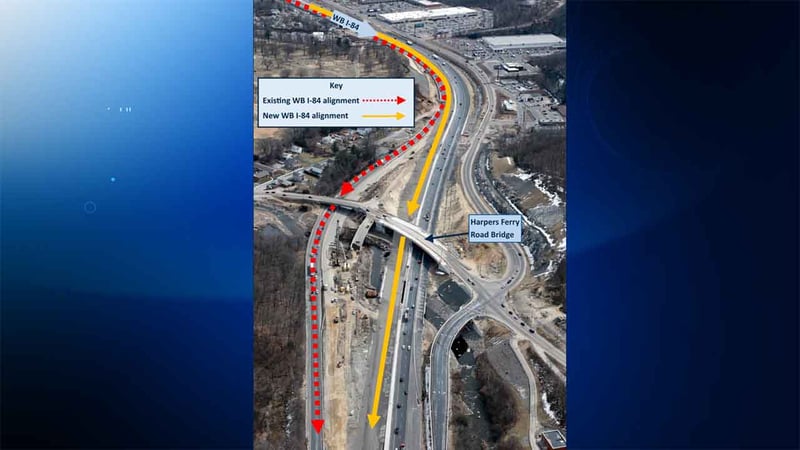 The I-84 westbound shift is scheduled for 9:30 p.m. on Sunday. (widening.i-84waterbury.com)
WATERBURY, CT (WFSB) -
Construction on Interstate 84 in Waterbury has taken another step forward.
Sunday night, traffic on the westbound side of the highway will shift into a new alignment.
According to transportation officials, the westbound traffic will shift to the south into the new alignment from west of Scott Road Bridge to the new I-84 bridge over the Mad River's western crossing.
The traffic will travel under the new Harpers Ferry Road Bridge adjacent to the new alignment for the eastbound side of the highway.
Officials said the shift will allow the contractor to complete demolition of three bridges and continue work on Plain Road East, Harpers Ferry Rod and the exit 25 westbound on-ramp.
The shift is scheduled to happen at 9:30 p.m. on Sunday.
If inclement weather causes postponement, work will be done the following night.
More information about the project can be read here.
For updates on the traffic situation, check the Channel 3 traffic map here.
Copyright 2018 WFSB (Meredith Corporation). All rights reserved.