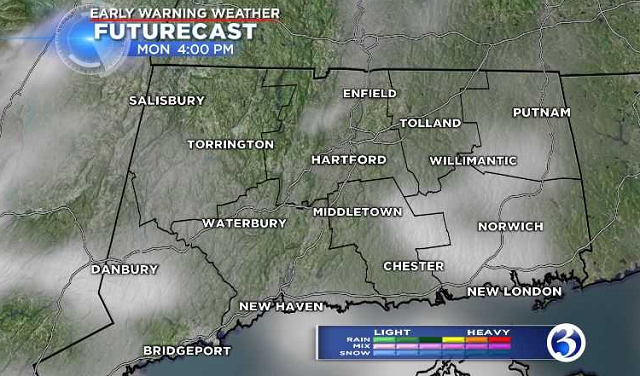 Warm temps and thunderstorms ahead for Tuesday (WFSB)
HARTFORD, CT (WFSB) -
Clouds and possible showers are expected Monday morning, but will be short-lived as the clouds clear and make way for the sunshine and temperatures in the 70s by mid-afternoon.
More changes are expected Tuesday, however. Meteorologist Mike Cameron is forecasting temperatures in the 80s, but a cold front from the north may usher in the possibly for showers and thunderstorms in some areas during the afternoon and evening.
Then cooler weather will return Wednesday.
"Maritime air, moving into the state from the northeast, will cool things off in a big way Wednesday," said Cameron.
"Temperatures could stay in the 60s all day Wednesday thanks to this front and its clouds, showers, and northeasterly flow."
Thursday will begin with some lingering rain, but the majority of the day will be dry with highs in the lower 70s, according to Cameron.
Cooler air will return again Friday. As a renewal of this cooler air infiltrates from the north Friday morning, high temperatures will only reach into the 60s Friday afternoon,Cameron said.
Copyright 2018 WFSB (Meredith Corporation). All rights reserved.