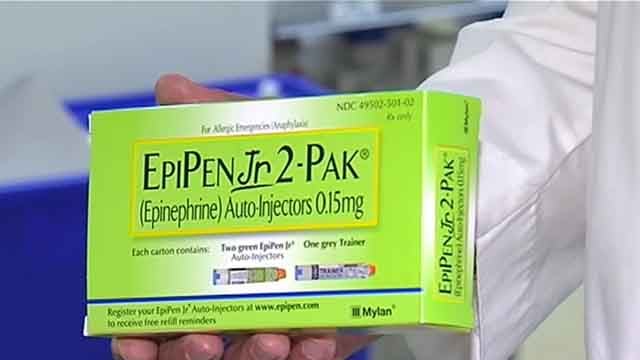 (WFSB file photo)
HARTFORD, CT (WFSB) -
Senator Richard Blumenthal is demanding action from the Food and Drug Administration in the EpiPen shortage.
Since March, pharmacies have had to turn away patients who are trying to refill their prescriptions.
The FDA said the shortage comes from manufacturing problems, but Blumenthal said little has been done to address the emergency.
The Senator was joined by parents of children with food allergies who rely on EpiPens in the call for action on Monday.
"I'm calling on FDA to take action immediately so people in Connecticut can have access," said Blumenthal.
Six-year-old Bradley is allergic to peanuts and last fall nearly died from a brush with peanut butter.
"I can't tell you the terror a parent faces when a child is having a life-threatening reaction almost like an out of body experience to implement allergy," said Jill Negro, Bradley's mother.
Bradley was saved because there was an EpiPen in the house, but they are hard to find.
The Food Allergy Research and Education found that more than 400 patients in 45 states have had trouble finding this life-saving medication.
Copyright 2018 WFSB (Meredith Corporation). All rights reserved.