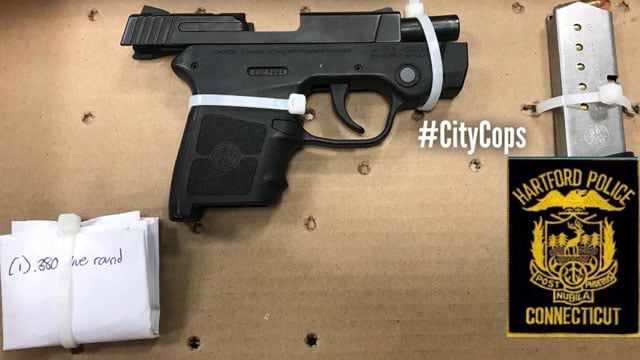 Hartford police arrested a juvenile after they found him to be in possession with a stolen gun. (Hartford police)
HARTFORD, CT (WFSB) -
Hartford police said they arrested a juvenile with a stolen gun on Wednesday.
Police said they were called to the area of Martin and Judson streets just before 3 p.m. for a complaint about people carrying firearms.
Officers responded and found a large group of people who fled the area.
The unidentified juvenile was one of the people who tried to flee. He was showing signs that the was armed, according to police.
An officer pursued the suspect on foot. During the pursuit, the suspect threw the gun.
He was detained without further incident and the firearm was recovered.
Police said they determined that the .30 caliber gun was not only stolen, but was loaded.
They also said the juvenile has prior arrests for stealing vehicles, assault and larceny. He's also a current robbery suspect.
Copyright 2018 WFSB (Meredith Corporation). All rights reserved.