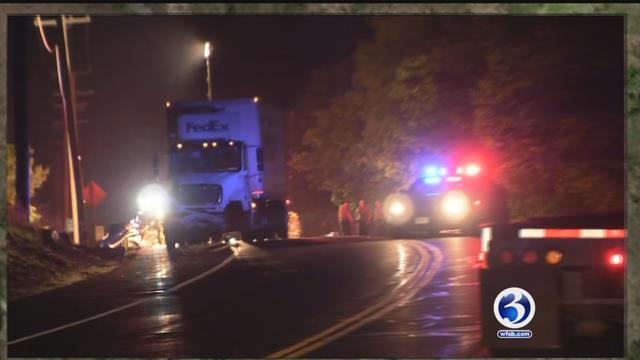 ELLINGTON, CT (WFSB) -
One person was killed after a crash involving a FedEx tractor trailer and passenger car near the Ellington-Willington-Tolland line on Thursday morning.
State police identified the victim as 48-year-old Christopher William Robicheau of Oakham, MA.
According to emergency officials, the crash occurred shortly before 2 a.m. in the area of River Road, also known as Route 32, and Plains Road.
Troopers said Robicheau was traveling southbound when he crossed the center double yellow line and collided with the front end of the tractor trailer.
Robicheau was pronounced dead at the scene.
Police had River Road closed at its corner with Schofield Road as they investigated the crash. It has since reopened.
The road was closed until around 8 a.m.
Troopers called the investigation ongoing.
For real-time traffic updates, check the Channel 3 traffic map here.
Copyright 2018 WFSB (Meredith Corporation). All rights reserved.