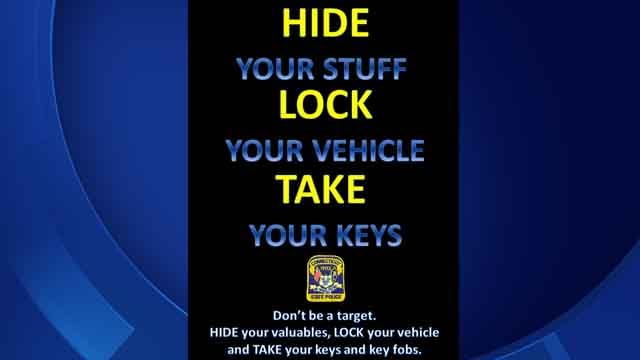 (CT State Police)
MONTVILLE, CT (WFSB) -
Connecticut State Police are reminding people to lock their cars and hide valuables, after some recent break-ins.
On Wednesday evening, police were called to Wide World of Indoor Sports on Satchatello Industrial Drive in the Oakdale section of Montville after car break-ins were reported.
Police said two purses were stolen from two different cars that were in the parking lot.
"Unfortunately, in both of these incidents the pocketbooks were left in plain sight, visible to people who walked by the vehicles and to criminals who were looking for the opportunity to steal someone else's valuables," police said in a press release.
In one case, the car was left unlocked and in the other someone smashed a window to grab the purse.
Police said this serves as a reminder to not only lock your cars, but also keep valuables out of sight.
"Sadly, criminals do their 'shopping' in your unlocked vehicle or vehicles where they can see that valuables are easily accessible," police said.
Anyone who thinks they may have information about these car break-ins can call police at 860-848-7510.
Copyright 2018 WFSB (Meredith Corporation). All rights reserved.