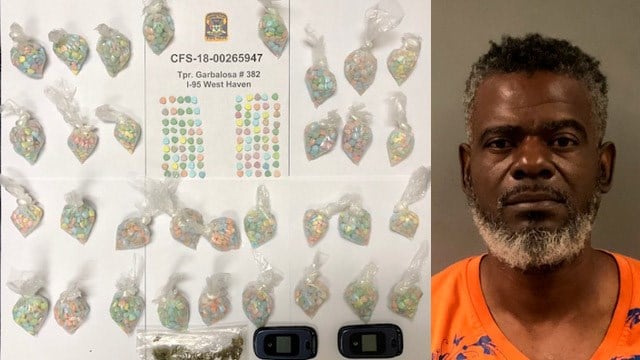 Anthony Pierre of Georgia was pulled over on I-95 in West Haven for a cell phone violation and later charged with drug possession. (State police)
WEST HAVEN, CT (WFSB) -
State police looking to stop a Georgia man for a cell phone violation ended up arresting him on drug charges.
Troopers said Anthony Pierre, 47, of Decature, GA, was charged with illegal possession of an taxed drug, sale of a hallucinogen, possession of an illegal substance near a school and risk of injury to a child, among other charges.
Four children were in the vehicle at the time.
State police stopped Pierre in the area of exit 42 on Interstate 95 north in West Haven just before 3 p.m. Sunday.
Troopers said they developed probable cause to search the vehicle.
They said they found 3,000 pills of MDMA and 4.7 grams of marijuana.
Pierre was held on a $150,000 bond.
He was given a court date of Monday in Milford.
Copyright 2018 WFSB (Meredith Corporation). All rights reserved.