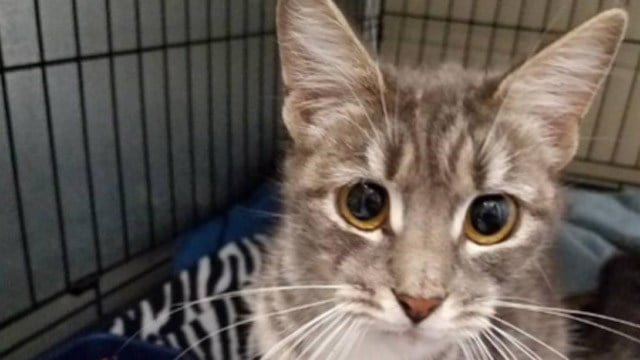 Lilac, a young short-hair grey tiger cat with white markings, tested positive for rabies on May 30. (NDDH)
KILLINGLY, CT (WFSB) -
Health officials in eastern Connecticut are looking for people who may have had contact with a rabid cat.
The Northeast District Department of Health said it has been working with the Northeastern Connecticut Council of Governments Animal Services Program in Killingly to contact everyone.
Lilac, a young short-hair grey tiger cat with white markings, tested positive for rabies on May 30.
It was housed in a middle cage of the main NECCOG shelter on Putnam Pike in the Dayville section of town.
Health officials said people may have come in contact with the cat between May 14 and May 29. Those people should call for an assessment of exposure.
They called rabies a viral disease, primarily of animals, caused by infection of the brain and spinal cord.
People can get the disease from the bite of an infected animal.
An animal with rabies can also transmit the virus through its saliva, which can come in contact with a person's mouth, nose and eyes or get in open wounds on the skin.
Anyone concerned about exposure can call the NDDH at 860-774-7350 extension 24.
Copyright 2018 WFSB (Meredith Corporation). All rights reserved.