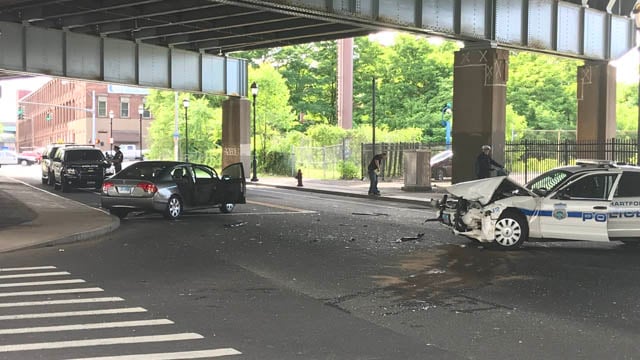 A Hartford police cruiser was involved in a crash on Capitol Avenue (WFSB)
HARTFORD, CT (WFSB) -
A Hartford police officer's cruiser was involved in a crash on Friday afternoon.
The crash happened at Capitol Avenue and Park Place around 4 p.m. The intersection sits under I-84.
A Hartford officer was responding to the report of a disturbed person with a sword when the cruiser and a Honda collided.
The car had come out of an Aetna parking lot on Capitol Avenue when it collided with the cruiser.
Both the Honda driver and the officer were taken to the hospital as a precaution with non-life threatening injuries.
Police said the person who reportedly had a sword had a toy sword.
Stay with Channel 3 as more information becomes available.
Copyright 2018 WFSB (Meredith Corporation). All rights reserved.