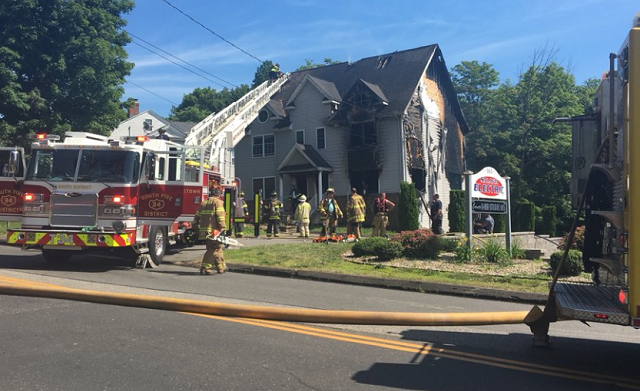 (WFSB)
MIDDLETOWN, CT (WFSB) -
Crews from multiple departments were called to battle a fire in Middletown on Sunday.
The fire started in a two-story duplex style building on Saybrook Rd. at about 2:40 p.m., the fire chief said.
Upon arrival, the chief said firefighters saw heavy smoke and heavy flames coming from the right hand apartment. The chief said no one was home at the time, and the residents on the left hand side of the apartment were able to get out of the home safety.
The chief said both apartments are a total loss.
No one was injured, but one resident said he lost a cat in the fire.
Due to the heat of the day, mutual aid was called in order to rotate firefighters for those who needed breaks.
The fire marshal is investigating the cause and origin of the fire.
This story is developing. Stay with Channel 3 for updates.
Copyright 2018 WFSB (Meredith Corporation). All rights reserved.